As an endlessly curious person, Questlove has a tendency to switch into something his friends have affectionately dubbed "journalist mode." 
When this happens, Questlove says, it's usually with a peer that he admires—and it involves asking probing questions about their craft until they begin to feel, by his estimation, "extremely freaked out." While that approach can be somewhat disarming around the dinner table, it also makes Questlove (born Ahmir Thompson) a highly insightful interviewer. That skill is the heart of his YouTube series Quest for Craft—a partnership with whisky distillery The Balvenie—which recently debuted its third season and includes interviews with Anderson .Paak, Yo-Yo Ma, Fred Armisen, and Lena Waithe. 
Questlove uses his own background—from cofounding hip-hop band the Roots and directing Oscar-winning documentary Summer of Soul to hosting his own podcast and serving as bandleader for The Tonight Show Starring Jimmy Fallon—to inform the discussions he has with his guests. 
Fast Company sat down with Questlove to discuss what he's learned from his peers, letting go of perfectionism, and the role of AI in the creative world. 
You're someone who thinks very seriously about creativity—you've written some books on the topic and host your podcast Questlove Supreme. What makes "Quest for Craft" unique in terms of how you approach the interviews?
In my ongoing journey of writing books and doing Questlove Supreme, I wanted to find a platform that would allow me to delve in deeper to the creative process. The Balvenie instantly knew what I was going for. [Quest for Craft] allows me to, in a professional, contained manner, geek out on people that I'm friends with, without them having to chastise me for going into journalism mode—and I've scared some people off. But I hate to call myself a journalist, because I see these things as conversations, whereas with journalism, you're supposed to leave yourself out of the equation; just talk to your subject and pull information from them.
For me, I think it's important to show the connectivity between the person asking the question and the person giving the answers, so that they know you go through the same thing they go through. I think when the audience watches it, it opens them up more, like, "Oh, that that happens to me, too." And a lot of people are hella shocked that I will easily admit that, you know, when this particular record came out and I got a bad review, how bad I took it, and how I spun out of control and did these things that humans do. Once they realize that you're sharing that level of vulnerability with them, it opens them up. 
In your talk with Anderson .Paak, you two discussed the importance of embracing emotions and showing vulnerability in your craft. Can you tell me more about that, especially from your own perspective coming up in the hip-hop scene?
The shocking thing was how open Anderson was. I think I remember saying, like, "Well, you come from damn near South Central Los Angeles, where no one's allowed to smile." You gotta be on guard. You got to protect yourself, you got to protect your vulnerability. You always feel like someone's willing to test you any second. No one wants to put their weapons down first and open up. That's what I do love about Gen Z; as each generation goes by, the embarrassment or the vulnerability or the need to guard oneself is slowly melting away. If that melts away then it allows humanity in. 
It was important for me to hear Anderson say that because I definitely remember [pressure early on in my career]. The DJ in Public Enemy, Terminator X [aka Norman Rogers] is world famous for his silence, and his stone face, and his glasses. When I met Norman, he started talking so geeky. I was like, wait a minute, he's talking like Carlton from "The Fresh Prince of Bel Air"! I remember, earlier in my interviewing career, thinking, I talk geeky, too. This might hurt me. I always had this fear of getting found out. Like, Man, they're gonna know I'm a geek, even though I did come from a part of West Philly that's nothing to mess with. I was just really amazed sitting there, like, "Wow, Anderson, you don't even know—25 years ago, I was you. And I would never feel comfortable talking about my smile." In all the four interviews this season, the most important takeaway lesson is embracing emotions, and not being afraid to be made fun of because you're joyful.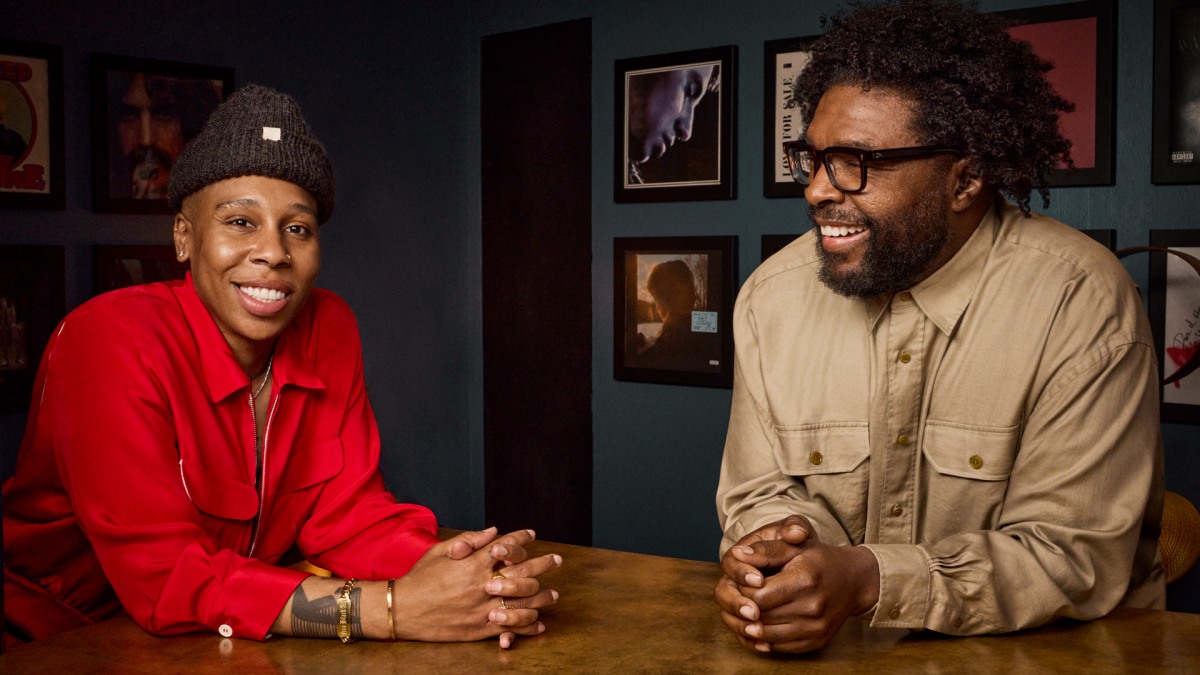 A theme you came back to a few times this season, especially in your talk with Lena Waithe, was letting go of perfectionism to prioritize your individual voice. Was there a turning point for you in your relationship with perfectionism?
It wasn't until I first started working with [singer-songwriter D'Angelo], back in 1997—the more mistakes I made during the process of us making his second album, Voodoo, the more he encouraged it. And in my mind, my ego was speaking like, "No man, I can't let these people hear me drum like a three-year-old!" And he's like, "No, I'm keeping that in the song." I was losing sleep over this because I'm thinking about all those drummers in high school that got first chair when I was stuck with a triangle. Like, I got a rep to build and people got to know I'm the most perfect drummer of all time! But when you are a perfectionist, you're also a dog chasing your tail. 
Once I let my ego go, I realized, "Oh, my sloppy way of playing is another way to show my humanity." I'm not anti-perfectionist. I think there's a perfect way to execute things. But for me, I love flaws. In fashion, I like my stuff distressed. I like it wrinkled. I like dirt. You know, terra firma. Despite where I am right now, I'm very much grounded.
On the topic of humanity and music, one of the biggest music stories right now is the use of AI—whether it's used to help create a beat or mimic a famous singer. How do you view AI's role in creativity?
You know, I think there are a lot of people today living in panic about AI technology—we just live in a time where fear is just running everything around us. But anything can be used for creative means. Where we get in trouble is when it's not a supplement—you don't want to make this the epicenter [of music creation].  
Listen to every Michael Jackson AI. I've heard at least eight of them. There's something about Michael Jackson's voice that's so vulnerable in his delivery, that AI cannot replicate his vibrato, his inflections, his breathing, his ad libs—it can be close, but no cigar. You can't teach AI how to be human, and the human touch is what will sustain us.