The design, size, and even location of refrigerators is about to change forever. Whirlpool Corporation, the parent company of appliance brands JennAir, KitchenAid, and Whirlpool, has just created a new way to insulate refrigerators that can dramatically increase their capacity and reduce their energy usage. It's opening up wild new opportunities for the way refrigerators look, and how they could be evolving away from being a big box in everyone's kitchen.
The new approach is called SlimTech, and it replaces the thick polyurethane foam and plastic that form the walls and doors in almost every refrigerator on the market. Instead, SlimTech is a vacuum insulation structure that contains a thin layer of compressed and proprietary powder sealed inside walls of steel.
Doors using SlimTech will be up to 60% thinner than the typical refrigerator door, and will increase the interior capacity by 25%. In another configuration, slightly thicker SlimTech installations could improve the internal temperature control so much that energy use would drop by 50%.
In an exclusive interview, Whirlpool Corporation chairman and CEO Marc Bitzer calls the technology a step change in the way refrigerators are designed and built. "This is one of the biggest innovations in refrigeration in the last 50 years," he says.
After more than six years in development, 180 patents, and tens of millions of dollars in research and development, the first refrigerators using SlimTech will begin production early next year, for the high-end JennAir brand. Whirlpool Corporation expects to display one at the Consumer Electronics Show in January.
To put this new technology in context, almost every refrigerator built since the 1960s has relied on foam and plastic to insulate the interior and keep the cabinet cool, according to Whirlpool engineer Paul Allard. He's been working on SlimTech for several years, and says SlimTech will revolutionize the form of refrigerators. "It's completely different," he says.
Current refrigerators have walls that are five centimeters thick. SlimTech shrinks that down to two centimeters. And because the insulation is sealed in a steel structure, it can have straighter lines and sharper angles than the molded plastic that forms the inside of the typical refrigerator, Allard explains, increasing capacity from 17 cubic feet to more than 21 cubic feet. "It'll be a big improvement in being able to use the space in your kitchen more efficiently," Allard says.  
Bitzer says this new form of insulation is as much a product innovation as a manufacturing one. Whirlpool Corporation has spent years trying to figure out how it can produce these new kinds of refrigerator doors and cabinets in factories that have long been optimized for the old and time-tested way of making refrigerators. "It's not just a technology. I've got to change the factories," Bitzer says. "It's just a different production methodology."
The necessary change to the manufacturing process alone has cost $16 million, and is focused on one of Whirlpool's smaller factories, in Ottawa, Ohio. Bitzer equates the change to "open heart surgery," and says it will be a while before such changes are made to bigger and higher volume factories.
The company always knew that moving to this new technology was going to be a long game. But over the last six or seven years, Bitzer says the company went through moments of doubt about whether all this effort and expense was worth it.
"It's a lot of money with a long payback period," he says. "We're a publicly listed company so we have quarterly results, and if you invest a big part of your entire innovation budget into a technology which is still years away, it's a big decision."
There were times when Bitzer and his team considered pulling the plug. It would have been a painful repeat of another major R&D effort into solid state cooking that was eventually scuttled after five years of work and investment. But Bitzer says the potential for the SlimTech technology to change the refrigerator was too big to ignore.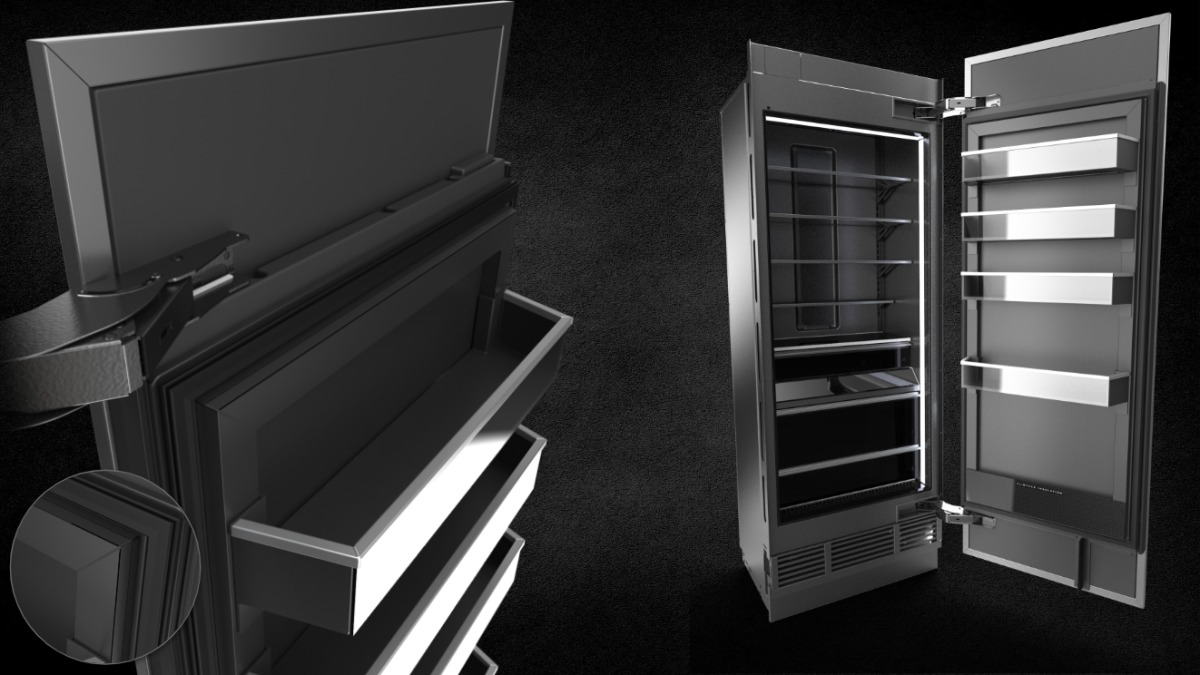 [Photo: Whirlpool]
Initially SlimTech will make refrigerators either more spacious or more energy efficient. Eventually, though, Bitzer says this approach to insulation could radically alter how refrigerators look and how we use them.
"Today you have this one big, 25 cubic foot refrigerator in the kitchen," he says. "What if you had a small one in the kitchen and a small one in the living room, because all of a sudden you don't have the energy loss or the space loss."
He envisions small refrigerators being used throughout the house for cooling things like medication or cosmetics. They could even shapeshift away from the typical cabinet formfactor.
"Down the road I think we start thinking about refrigeration like furniture," he says. "You don't have these big clunky doors and walls anymore. You could think about distributed refrigeration throughout the house."
For now, SlimTech will have a modest debut in the form of a conventional cabinet-style 30-inch wide JennAir refrigerator, priced in the same range as other similar models. Bitzer expects the production of JennAir refrigerators using the technology to number in the thousands. By comparison, Whirlpool Corporation's many appliance brands produce between 15 and 20 million refrigerators per year.
The hope, Bitzer says, is for SlimTech to make its way into more and more of the corporation's refrigerators over time. There are already plans to integrate the technology into the mid-range brand KitchenAid, but no precise timeline.
Bitzer knows the first refrigerators using SlimTech will pencil out as a loss for the company, but he sees the project as a way to avoid stagnation for a company that's been around for 112 years. "We have a couple of these bets out. Some will work out, some won't work out," he says. "This one I'm convinced will work out."