A quarter century ago, digital video recorders such as TiVo changed the way people watched TV. DVRs allowed viewers to pause live television, binge on entire seasons of their favorite shows long before Netflix even offered streaming, and fast-forward through annoying ad breaks—much to the chagrin of media executives.
Now, Scripps Networks—the division of the broadcaster Scripps that owns Court TV and Ion, among other video channels—is looking to bring back some of that early DVR magic. This fall, it released a new $100 device dubbed Tablo, which allows consumers to record programming from such networks as ABC, NBC, and CBS, as well as Scripps' own TV networks, and then stream the recordings to any television or mobile device inside their homes.
The new Tablo DVR is also the first device of its kind capable of recording movies and TV shows from a few dozen internet TV streaming channels, and it comes without any monthly fees. That's an attractive proposition for consumers who cut the cord to save money, only to see the cost of their streaming subscriptions go through the roof, argues Scripps Networks VP of enterprise strategy Bo Schuerman: "I think consumers are a bit fatigued from all the subscriptions and the price hikes."
People don't know what an antenna is
Scripps is not the first company looking to bring back the DVR. Industry pioneer TiVo tried for years to sell devices catered to the needs of cord-cutters, but drove away people who had severed ties with cable TV to save money on high monthly fees. In 2018, Amazon unveiled its own DVR for cord-cutters, which was tightly integrated with the company's streaming devices, and also came without a monthly fee. The product failed to catch on, and it was discontinued last year.
Even for Tablo, this isn't its first DVR rodeo. The device Scripps is now selling has been developed by Nuvyyo, a Canadian startup that was acquired by the broadcaster in early 2022. Before that acquisition, Nuvyyo tried for years to convince cord-cutters that it was time for a DVR revival. 
The startup introduced its very first Tablo device in 2014, with an interesting twist on the TiVo model: Instead of connecting directly to a TV, consumers just need to hook up a Tablo to an indoor antenna anywhere in their home. Once connected to a Wi-Fi network, Tablos can stream live and recorded videos to tablets, smart TVs, and other devices.
This approach gained praise from tech-savvy early adopters but never really caught on with most consumers. A former Nuvyyo executive revealed (in a since-removed LinkedIn bio earlier this year) that the startup only sold about 200,000 devices. It had 80,000 active customers at the time of the Scripps acquisition.
That's no surprise to former Simple TV CEO Mark Ely, whose since-defunct company unsuccessfully tried to sell a Tablo-like DVR to cord-cutters a decade ago. "The majority of U.S. consumers just don't understand what over-the-air broadcast TV is, whether it is available in their area, or what they need to do to get it," Ely says. "Unlike European countries, where many homes have aerial antennas installed for broadcast TV, U.S. homes long ago eliminated antennas in favor of cable TV or satellite."
Scripps executives are acutely aware of those challenges. After selling its cable networks in 2018, Scripps has spent the past few years investing billions of dollars in broadcast channels like Ion, Bounce, and Scripps News, which can be accessed nationwide for free with an antenna. Finding an audience for these channels hasn't always been easy. "My wife had no idea what a TV antenna was," admits Schuerman. "The biggest challenge we have is to educate people."
The company is running a marketing campaign called The Free TV Project to address that challenge, and it's positioning Tablo as one more way to popularize antenna usage. "Our goal is to drive awareness on over-the-air television," Schuerman says.
Streaming is leapfrogging antenna TV
Awareness alone may not be enough to bring back the DVR. Research shows that just one in five TV households makes use of an antenna—and even among antenna owners, streaming remains the most popular way to watch television. Ely predicts that this trend will only accelerate as media companies like Disney and Netflix continue to invest billions of dollars in content for their streaming services. "As consumer hours shift away from the big broadcast networks, the value of over-the-air [broadcast TV] will continue to decline," Ely says. 
Even sharply rising streaming costs won't necessarily drive people back to free antenna television. Most smart TVs nowadays offer easy access to hundreds of free, ad-supported streaming television (aka, FAST) channels that look and feel like basic cable. "FAST channels are delivering the kinds of syndicated content that used to make up non-primetime broadcast content," Ely says.
Tablo does have a few things going for it that could help the device stay relevant. One of them is sports, as many local games can't be easily viewed on streaming services. "Sports is such a big thing [for Tablo]," Schuerman says. "We're going to show you all the upcoming sports [events] across the major networks."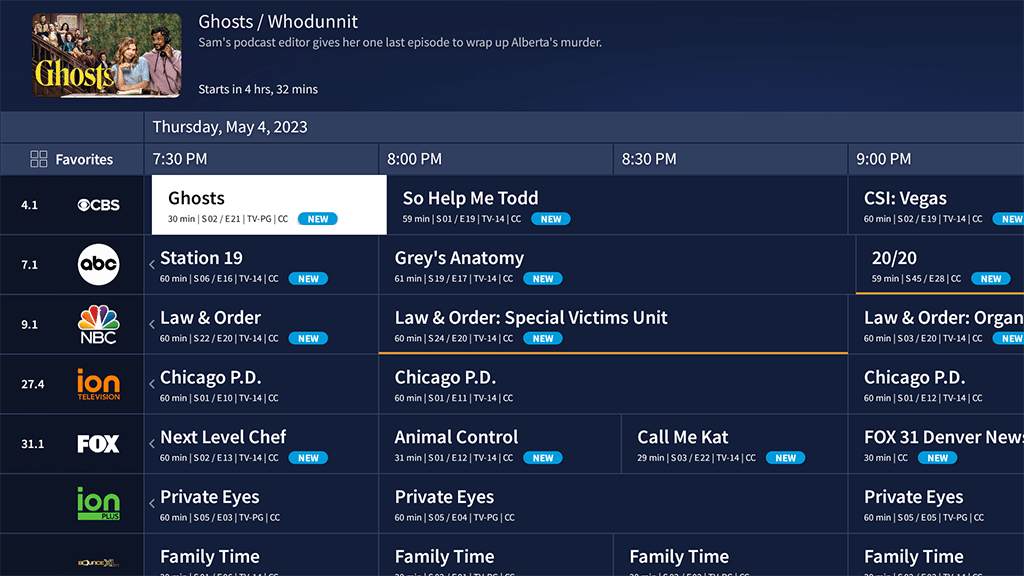 [Image: Scripps]
In addition to broadcast TV, Tablo also ingests dozens of FAST channels, from both Scripps and other publishers. The device treats these streaming channels just like any other TV network, which includes the ability to pause live programming and record individual shows or movies for later viewing. "To our knowledge, we're the first people to do this," says Nuvyyo CEO Grant Hall. "It's kind of revolutionary."
Lastly, Scripps and Nuvyyo redesigned the product itself to make it look more like a modern streaming device rather than a throwback to the early days of DVRs. Prior versions of Tablos still could be confused for the kind of functional, but ugly, networking gear you might get from your internet provider. Their new version, by contrast, wouldn't look out of place at an Apple store.
Will good design and new features convince people to give DVRs another look? Ely remains a skeptic. Streaming services may be more expensive, but they do offer a much better consumer experience, he argues. "DVRs had their moment," he says, "but don't have a future."
Schuerman, predictably, disagrees. "We've got an incredible product here," he says. "We just now have to educate people on the power of free TV."