It was a deal that lit the design world aflame with jealousy. Fuseproject, the design agency founded in 1999 by industrial designer Yves Béhar, had parlayed its success designing for brands like Herman Miller and SodaStream into an eye-popping acquisition. In July 2014 Fuseproject announced that the Chinese marketing conglomerate BlueFocus Communication Group was buying a 75% stake in the company for a reported $46.7 million.
"We were often talked about as 'Oh, look what's happening to design. Those are entities that are worth buying,'" Béhar says. Nearly a decade after that blockbuster deal, it seems Fuseproject is an entity worth buying back. In September, with venture capital drying up and fears of an economic recession hard to shake, Béhar paid an undisclosed sum to retake ownership of the company, and he's got his sights set on turning it back into an entrepreneurial design powerhouse. He wants to not only design products but take a share of the profits the come from them if and when they make it big. Buying back his company was step one.
"Any time you face a downturn, I always get excited about the opportunities to build new companies or reenergize existing ones like Fuseproject," he says. "I think the time felt right, versus years ago where there was more money than was needed in the system."
Béhar has remained CEO of Fuseproject since that 2014 deal and a second in 2017 that put full ownership of the company in the hands of BlueFocus Communication Group, but regaining control will allow him to shift business strategies. Instead of being essentially a hired gun design firm, Fuseproject can once again be more of a design collaborator, joining forces with startups—sometimes as equity partners, sometimes as cofounders—as it did in its early, pre-acquisition years.
"That has really been a source of excitement as a designer, a source of exploration, and pretty good business for us," Béhar says. "So we wanted to get back to that kind of approach to design."
(From Left) CTO Forrest North, CEO Jason Marks, and CCO Yves Béhar. [Photo: Telo]
That entrepreneurial spirit also explains Béhar's other big move this fall, as he takes on the dual role of chief creative officer and cofounder at the electric vehicle startup Telo. Launched earlier this year, Telo is building a compact EV pickup truck that seeks to offer a counterpoint to the large and unruly pickups that dominate the American car industry. Béhar's new roles also include Fuseproject coming in as an equity partner, putting the company squarely back in the design entrepreneur space.
With a snubnose form factor and a battery system that allows the truck to keep a range-efficient low profile, Telo's pickup is aimed at American and European consumers who want the versatility of a pickup without the gargantuan size and weight of most existing trucks, whether EVs or with internal combustion engines.
"You're really looking at cars built by marketing departments to sell, I would say, an obsolete technology with the notion that bigger is better," Béhar says. "That doesn't mean that's all the American consumer wants, especially in cities."
Telo's truck is a radical alternative. "We can put a 350-mile range and 500 horsepower within a car that is the size of a two-door Mini," Béhar says.
After just a few months, the concept has attracted attention. About 2,200 preorders have already come in for a truck that won't even begin production until 2025. (Béhar expects to have a driving prototype complete within about 12 to 15 months.)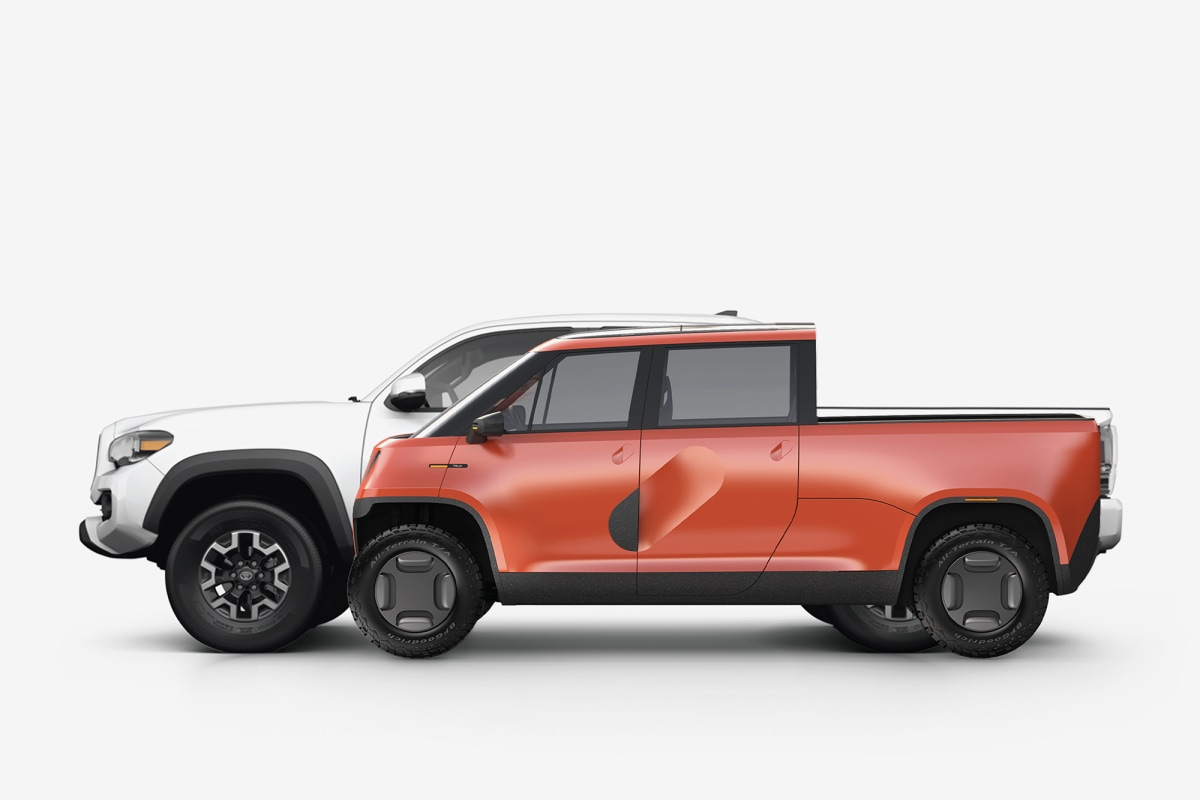 [Photo: Telo]
Béhar is bullish on EVs. He's driven a Tesla for over 10 years, and more recently bought an EV truck from Rivian. While he's a fan of the technology and the practically maintenance-free owner experience, he's been underwhelmed by the design. "In my opinion most EVs are built very similarly to the old gasoline cars in terms of the configuration and in terms of the placement of the volumes," he says. "More refinement is needed and that's what we're proposing. A lot of refinement, a lot of efficient ways to deal with the truck bed, the storage, the interior, the seats. Not just more for the sake of more, which is kind of what's happened to these types of vehicles."
He sees the Telo as a design opportunity to reconfigure a product that's fallen into a rut. But he also sees the business side of that opportunity, with trucks like the Ford F-150 perennially ranking as the bestselling vehicles in the U.S.
"It's the right time to launch a really mainstream product, but one that also changes the category and offers a completely new type of product," he says.
Transportation and mobility are top of mind for Béhar, and will also be a big part of the work he pursues with Fuseproject going forward. Other areas he's excited about include sustainability, health care and wellness, and he says partnerships with startups in these areas are likely to be announced soon.
"Innovation in those spaces is going to make a significant difference in the human experience," he says. But that's not the only impetus for Béhar, who's once again both the CEO and owner of Fuseproject. "Those are the right business opportunities to go after right now."