The womenswear label Cuyana doesn't want you to buy three handbag when a single, multi-functional tote will do. Consider its Systems Tote. Cuyana's designers spoke to dozens of customers to understand how they use bags on a daily basis, then created a tote that takes you from the office to the weekend to date night.
On the surface, the bag doesn't look utilitarian: It has an elegant, streamlined silhouette and is made from soft, pebbled Italian leather. But when you snap in a laptop sleeve, it becomes the ideal work bag. When you're out with your family, leave the laptop at home and swap in a pouch insert full of snacks for the kids. The pocket inside the bag snaps out to become an elegant clutch to go with your evening attire.
When Karla Gallardo and Shilpa Shah launched Cuyana in 2011, their goal was encapsulated in their motto, "fewer, better," which was about encouraging minimalism. "The idea was to pare down our products to the items that women really needed and would come back to again and again," says Shah. "But we quickly realized that this meant that all the pieces needed to work seamlessly together. "
The Systems Tote, which is now a best-seller, reflects the brand's design philosophy, which hinges on creating durable, multi-purpose objects that fit together. You'll see the approach across the brand's product line. A new jacket has removable sleeves, so it converts into a vest. A new wallet converts into a clutch that fits your cell phone when you go out to dinner.
At a time when the fashion industry is reckoning with how overproduction and overconsumption are destroying the planet, Cuyana's approach to design offers some insight into how brands can deliberately sell less, while still operating a profitable business. "There's this misunderstanding that minimalism means boring," says Shah. "We've found that a 'fewer, better' lifestyle means owning items that really give you joy but that you get a lot of use from."
Fashion's Broken Business Model
Every season, millions of new clothes and accessories flood the market, contributing to the more than 100 billion items that the fashion industry churns out annually. This is far more products than humans actually need. And yet manufacturing these goods—from extracting raw materials to making them in factories to shipping them around the world—pollutes the earth and generates 8% of global carbon emissions.
When Gallardo and Shah launched Cuyana more than a decade ago, the began to understand how this overproduction happens. It's not just a matter of consumer demand, Shah says, but largely a product of how the fashion business model operates. Most brands sell their clothes through boutiques and department stores, which expect trendy new collections every season to entice customers through the door. But at the same time, it is never clear what is going to resonate with customers, so both brands and retailer expect that a significant quantity of clothes will not sell at full price. They will heavily discount these leftover clothes, and discard whatever is left at the end of the season.
Cuyana's co-founders wanted to see if they could do things differently. Their goal was to manufacture far fewer products, but ensure that the majority of items would sell at full price. The strategy has worked: 90% of Cuyana's inventory sells out without any discounting. Their key to success has been to to design a small collection of products that customers actually want.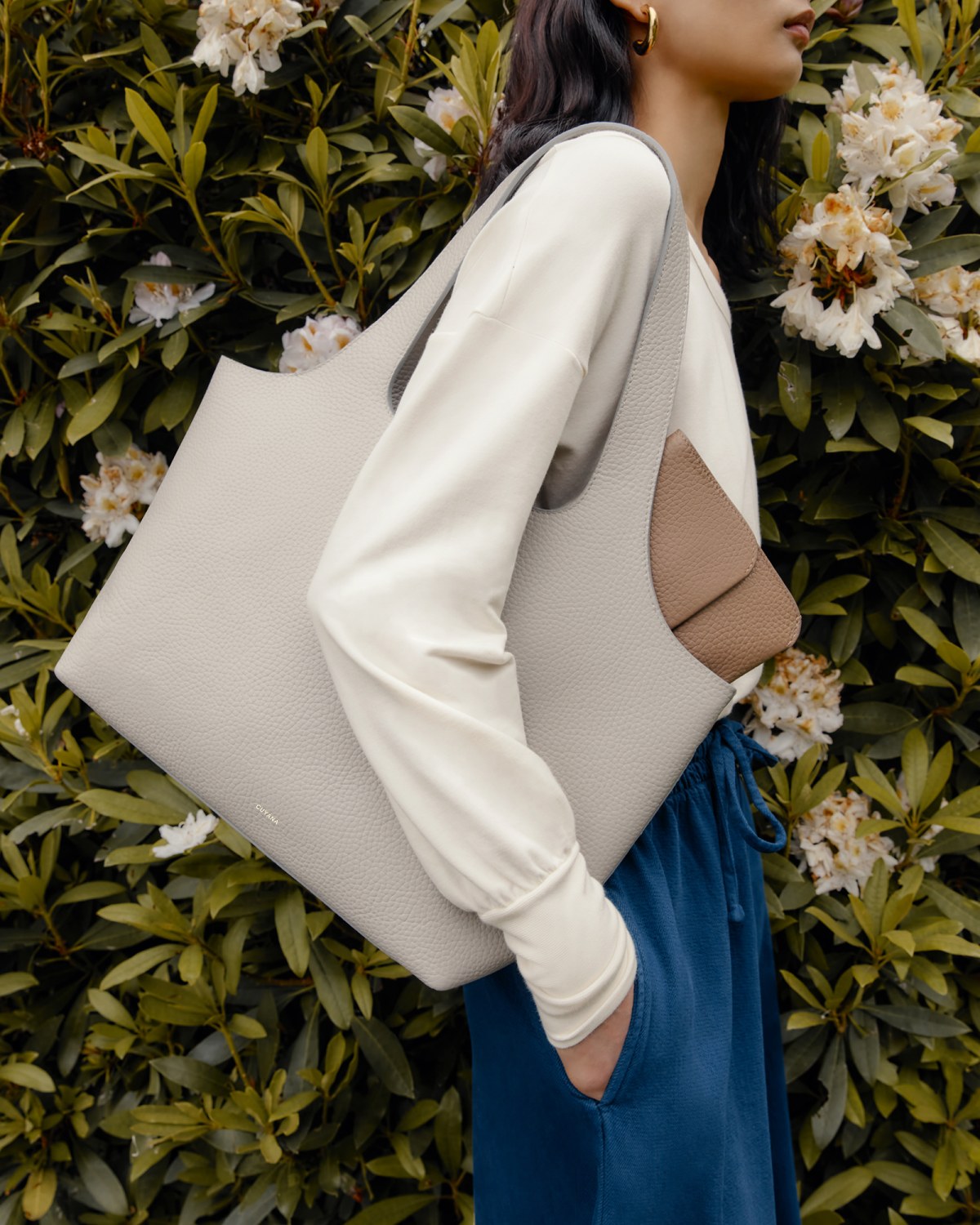 [Photo: Cuyana]
Designing Fewer, Better
For their first two years in business, Shah and Gallardo did extensive market research. They explored the shopping habits of 100 women in their target demographic of working professionals with busy lives. Today, they continue to gather extensive data about their customers' lifestyles and aesthetic sensibility. "Being a direct-to-consumer brand helps here," says Shah. "We have much more access to our customer and can design products for her with methodical precision."
They then used these insights to inform their design process. Cuyana's designers assume that if customers are coming to the brand, they are trying to live a "fewer, better" lifestyle, which means they are deliberately seeking to own less. So each product they make needs to be highly functional, and ideally, accomplish many different objectives.
When they designed the new jacket, for instance, they wanted to ensure it could be worn for as much of the year as possible, through different kinds of weather. It has a removable hood, so it works well as a rain jacket. It converts into a vest for when the weather is cool, but when temperatures dip, you can put the sleeves on. And when you transform the jacket, all of the buttons and zippers connecting the pieces remain hidden, keeping a sleek, streamlined silhouette.
Shah says that the designers are conscious about the color palette they use across every item they make, so that all the clothing and accessories fit together coherently. The brand focuses on neutrals, though it does include brighter colors occasionally, like a summery mango yellow or an autumnal burgundy. But it ensures that these colors pair well with everything else in the collection. "We want to make getting dressed in the morning easier for her," says Shah.
Since the goal of each product is durability, Cuyana's designers spend a lot of time sourcing high quality materials. The brand uses small factories in Italy, Ecuador, Argentina, Peru, China, and more, which are close to where the raw materials are produced, and describes the manufacturing process of each product on the website.
In the current fashion industry, where brands base their success on selling more and more products every season, Cuyana's approach of selling fewer items may seem like like bad business. But Shah says that it has been successful for Cuyana, allowing the company to become a fast-growing, venture-backed startup, valued at up to half a billion dollars.
Creating well-designed, highly-functional products also tends to lead to loyal customers, Shah says. If they find a piece they love, they're likely to come back to build out their "system," so that over time, more and more of their wardrobe is made up of Cuyana products. And happy customers tend to tell their friends about it, which is a very effective form a marketing.
But Shah says that the most important principle of design is to create beautiful things that women will want to wear repeatedly. Ultimately, customers gravitate towards the items in their closet that look flattering and make them feel put together. So designers spend a lot of time developing architectural shapes for handbags and dresses with elegant gathered seams. "Our experience has been that if when we create beautiful, aesthetically pleasing products that are also functional, women will want to use them repeatedly," says Shah.